Dieser Beitrag ist auch auf Deutsch verfügbar.
The pool book: Playing Pool – The Missing Manual
My pool book gives you the most important rules in 20 chapters to play better pool.
The 20 rules are dealing with issues even advanced players have – and beginners of course. Every chapter starts with an easy to remember rule which helps you to recall the content of the chapter and put it into action.
You get the ebook for Amazon Kindle, Smartphones, Tablets and ePub-compatible reading devices as well as a printed version.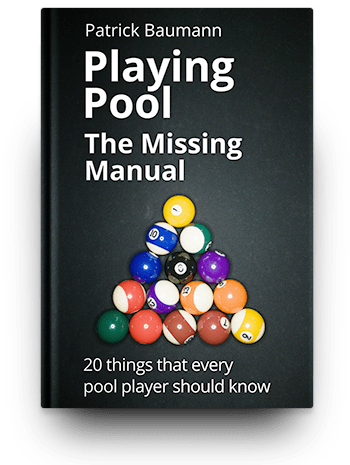 Praise for "Playing Pool – The Missing Manual"
Currently skilled players are coming up to me and saying I have good technique, which simply is based on the book. Less skilled players are saying I'm "a natural" – not realizing I'm just doing what the book says.
"Playing Pool – The Missing Manual" sums it up in a competent and entertaining way. I like the style of writing that mixes up the pool world a bit.
Awesome book on playing better pool. It is well written, concise and helpful for expert or novice. I've been playing billiards at a high level for many years and I extracted nuggets from this tome that has improved my game.
Learn how to:
take the right stance and how it will help you with aiming
find the right contact point on the object ball every time
control the cue ball
keep your nerves together
break the balls the right way
and 15 more things to play better pool.
Not only is this book packed with important advice, it's also written in an easy to understand and entertaining way. The concepts of the book are illustrated with lots of pictures and illustrations.